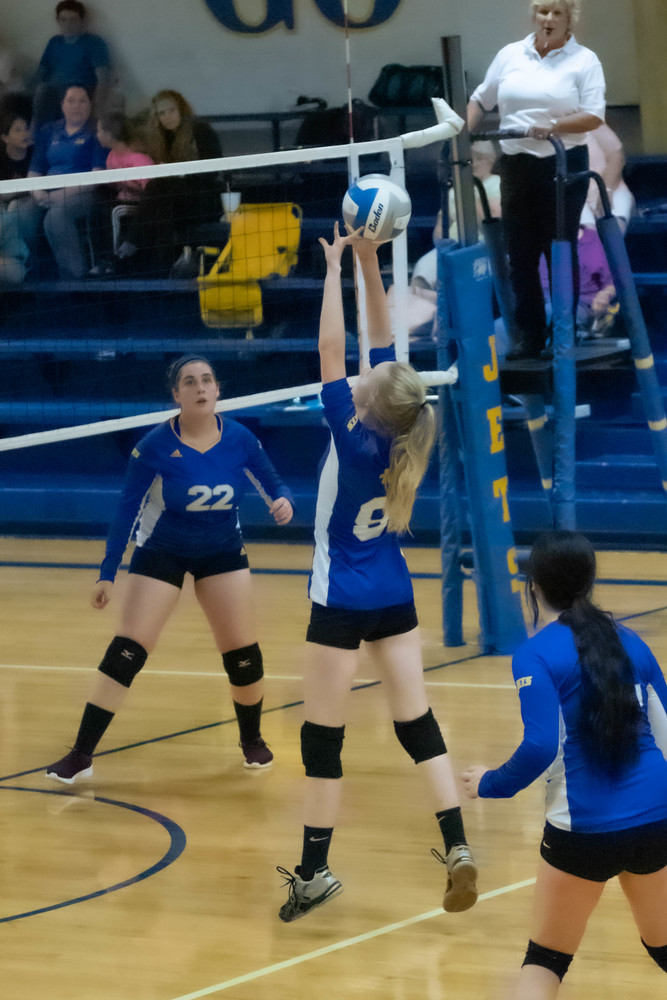 AMHS Quad
Jeff Almond
Wednesday, September 18, 2019
ALTOONA-MIDWAY HIGH SCHOOL VOLLEYBALL
BUFFALO – Still seeking that elusive first win, the Altoona-Midway High School volleyball team dropped a trio of matches in a quadrangular event held Tuesday here on their home floor.
The Lady Jets came up short against Northeast-Arma 25-21, 25-11; fell to Chetopa 25-7, 25-7; and lost to Crest 25-19, 25-6.
Natalie Davis had seven service points in the match against Northeast, while Abby Reaves, Mariah Stackhouse and Emma Martin all recorded aces. Reaves also recorded a kill, as did Alyssa Relph, while Shia Bennett had two digs and Reaves had another.
Against Chetopa, Josie Huffman led the way with three digs while Stackhouse, Bennett and Kyra O'Connor each added a pair. Martin fired two aces and Reaves and Relph each notched kills.
"We played like a team against Northeast. It was a great game to watch the girls play," said AMHS head coach Treasure Scott. "But then we sat three games, and let our emotions get the best of us against Chetopa."
In the nightcap against Crest, Martin and Huffman recorded four and three digs, respectively. Martin had another ace as did Patience Tarp. Tarp also had two kills and Reaves notched one.
"In the second set against Crest, we continued to do things right on our end. The score just didn't reflect it because overall Crest just flat outplayed us," Scott noted. "I'm very proud of how the girls played tonight."
The Lady Jets were without the services of starter Abi Elsesser, who was injured Saturday in the Flinthills Tournament. Then in the second set against Crest, the Lady Lancers also lost their libero, who suffered an apparent broken arm, according to Scott.
"Everyone here at Altoona-Midway wishes her a speedy recovery," Scott said.
Next action for the Lady Jets, 0-13, will be Saturday at the 10-team Humboldt Tournament.