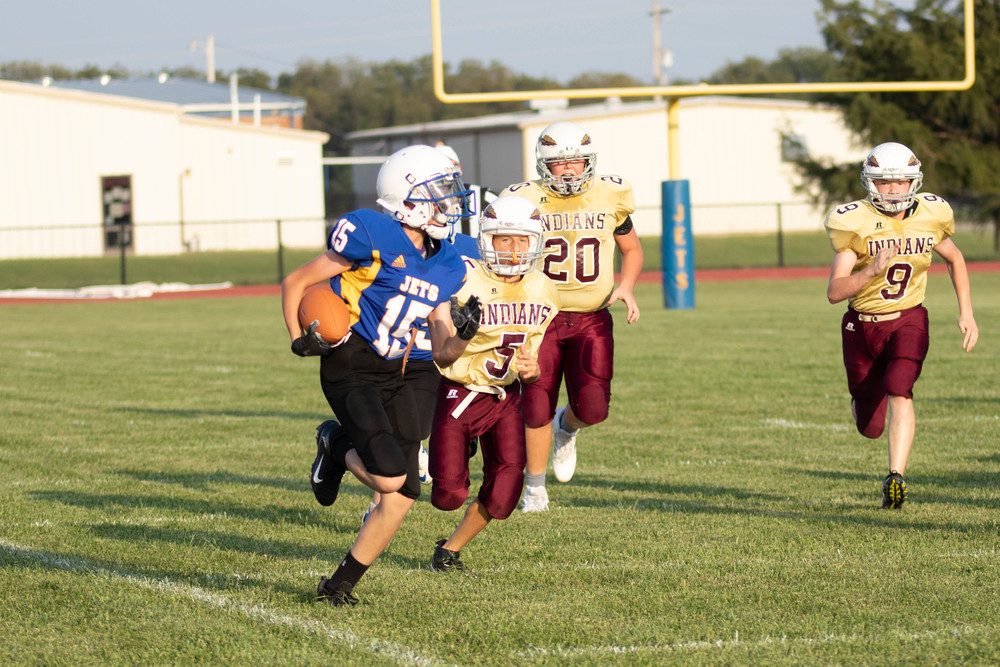 AMMS Football
Jeff Almond
Wednesday, September 18, 2019
TUESDAY, Sept. 17, 2019
ALTOONA-MIDWAY MIDDLE SCHOOL FOOTBALL
BUFFALO – The Altoona-Midway Middle School football team opened its season at home Monday night, dropping a 30-12 decision to the always-tough St. Paul Indians.
The season opener for the AMMS gridders came several days later than originally planned. The Jets had been scheduled to open play last Thursday at Chetopa, but the host team had to cancel that contest due to lack of players.
Against St. Paul, the Jets actually took an early 6-0 lead, thanks to a nifty 40-yard touchdown scramble by quarterback Garrison Brittain on the opening drive of the game.
However, St. Paul roared back to lead 22-6 at halftime. Each team managed a single touchdown in the second half. After the Indians went up 30-6, the Jets' Kaiden Rutherford took the ensuing kickoff and raced 60 yards to pay dirt. That return capped the scoring as the teams played a scoreless fourth quarter.
"Offensively, we played well in spurts. We would be clicking and then get hit with a penalty," said AMMS head coach Ron Rice. "We will work on coming out of the huddle quicker and getting set before the snap. We also need to improve with staying with our blocks to let the quarterback have time to throw the ball on pass plays.
"Defensively, we would have some stops and then slip in our assignments and leave a hole for the running backs to go through," Rice said. "We started the game trying to arm tackle and try to knock them down with our shoulders rather than using proper technique. We came out and played better in the second half and even forced a fumble in the third quarter.
"Overall, we played hard for the first game of the season and having a lot of kids playing for the first time," Rice added. "We'll be able to use this game to learn from our mistakes and we'll prepare for our game Thursday when we travel to Pleasanton."