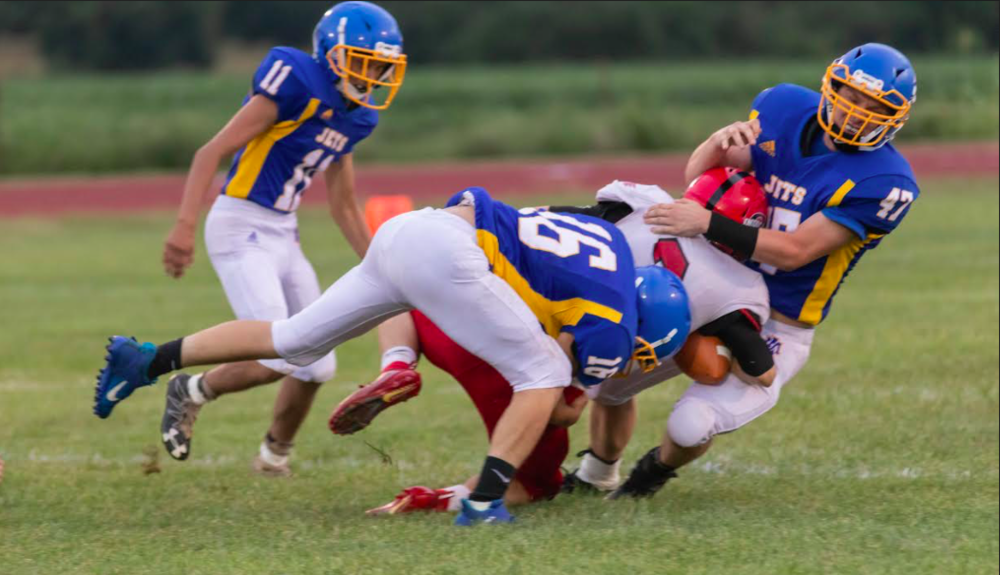 A-M vs Oswego
Jeff Almond
Sunday, September 22, 2019
ALTOONA-MIDWAY HIGH SCHOOL FOOTBALL
BUFFALO – The Oswego Indians, entering the contest with a pair of Three Rivers
League victories already under their belt, ruined both the TRL opener and the home debut
for the Altoona-Midway Jets here Friday night.
Oswego improved to 3-0 overall as they blanked Altoona-Midway 48-0 in the eight-
man contest.
The Jets fell to 0-3 (0-1 in TRL play) and have still not reached pay dirt this season.
"We have to find a way to get our line to be more aggressive," said AMHS head
coach Chad Raida. "We're young on the front line, and we're using a couple of first year
players."
Oswego led just 16-0 after the first period of play, but then exploded for a 26-point
second quarter to build a 42-0 halftime lead.
"Three of their touchdowns come on the exact same play where our defense got
caught cheating," Raida noted. "Giving up the big play has definitely been our downfall
from game one."
Altoona-Midway was led on offense by Jimmy Willard, who managed 50 yards
rushing, while Dayton Marsh finished with 25. Willard also paced the Jet defense with
seven tackles.
Senior Jace Wilson was the leading force for the unbeaten Indians. Unofficial stats
had him accounting for six TDs – four rushing, one passing and one receiving. He was
credited with 144 yards on just six carries.
Both teams will open up district play next Friday. Oswego travels to Sedan to put its
unbeaten record on the line against the 2-1 Blue Devils. Meanwhile, Altoona-Midway
remains at home and will try to get untracked as they host winless Chetopa, also 0-3 after
getting crushed by Lebo 76-6 Friday.
"We will look to bounce back Friday and try to improve from this loss," Raida said.
The Jets have posted victories over the Hornets in each of the past two seasons,
including a 38-16 win last year.