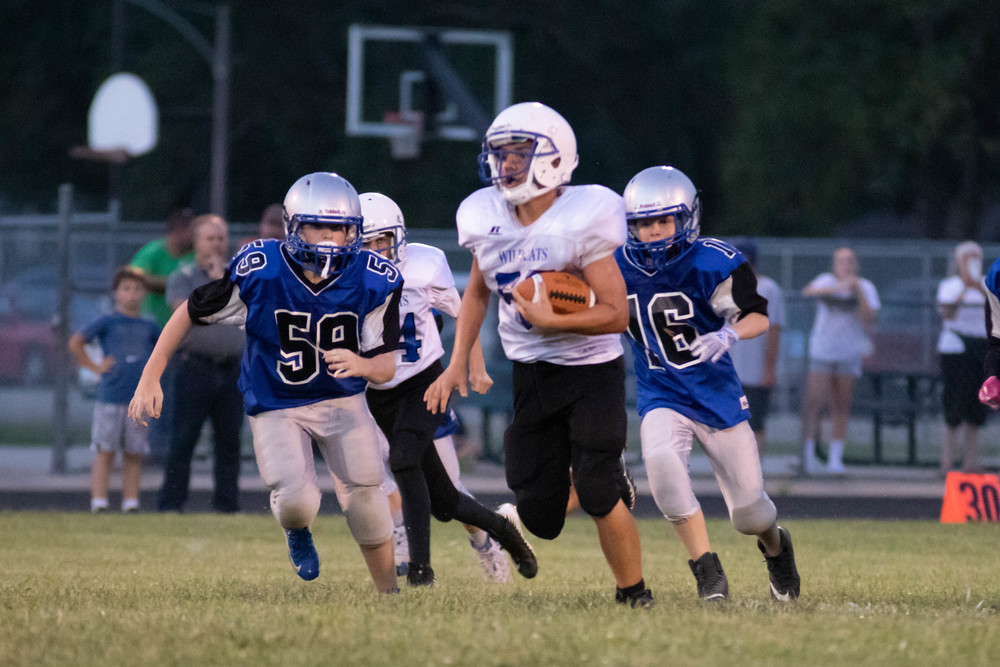 AMMS Football
Jeff Almond
Monday, September 23, 2019
MONDAY, Sept. 23, 2019
ALTOONA-MIDWAY MIDDLE SCHOOL FOOTBALL
PLEASANTON – Pleasanton Middle School rang up 22 first-quarter points and never slowed down as they rang up an impressive 60-12 victory over the Altoona-Midway Jets in middle school football played here Thursday evening.
"We definitely struggled (against Pleasanton) Thursday," said AMMS head coach Ron Rice. "Pleasanton was a big physical group that played really well in the trenches. We struggled with our fundamentals – whether it be keeping low, staying on our blocks, or running behind our blockers."
The Blu-Jays built a 34-6 halftime lead and led 54-12 after three quarters.
The Jets scoring plays came on a nifty screen pass from Jacob Meigs to Kieran Foster, good for 56 yards and a touchdown; and an electrifying 70-yard kickoff return to pay dirt by Kaiden Rutherford.
"Our strength again was our special teams play," Rice noted. "For the second game in a row, we had a kickoff return for a touchdown, and we almost had a second return for a score, but Kieran Foster got caught from behind near the 15-yard line."
Defensively, the Jets were led by Meigs with six tackles, while Lane Poeverlein, Blaine Collins, Foster and Rutherford each recorded three tackles apiece. William Stackhouse also made some nice plays, including a forced fumble and fumble recovery.
Altoona-Midway entered into a co-op agreement with Yates Center this season for middle school football. About half of the roster is made up from each school. The team is playing its home games at the Altoona-Midway field and wearing the Jets' blue and gold uniforms; while on the road they are wearing the white jerseys of YCMS.
"We will continue to work on our fundamentals as we prepare to face Crest this week," Rice said.
AMMS (0-2) will host Crest Middle School on Thursday, Sept. 26. Kickoff is slated for 6 p.m.