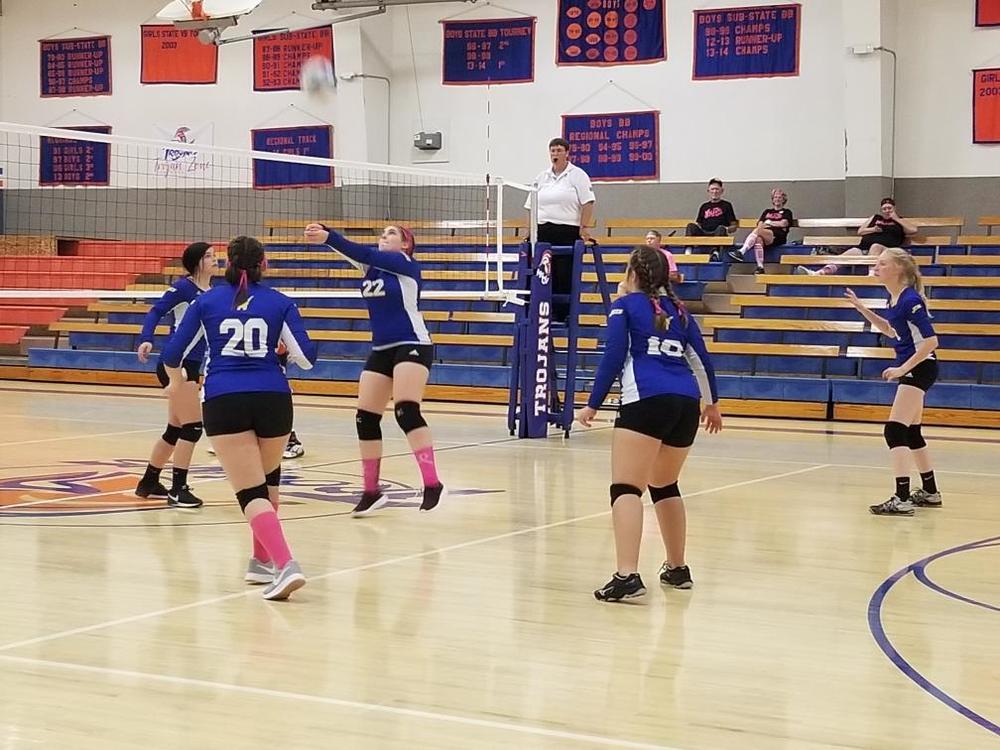 AMHS at Maris des Cygne Tri
Jeff Almond
Tuesday, September 24, 2019
ALTOONA-MIDWAY HIGH SCHOOL VOLLEYBALL
MELVERN – After picking up their first win of the season on Saturday, the Altoona-Midway High School volleyball team was unable to keep that momentum going as they dropped a pair of varsity matches in a triangular held here Monday.
The Lady Jets fell to host Marais des Cygnes Valley 25-20, 25-5, and also came up short against Lyndon 25-8, 25-15.
Against the host Lady Trojans, Shia Bennett paced AMHS with two aces, two digs and a kill. Emma Martin, Abby Reaves and Josie Huffman each added two digs for the Lady Jets, while Reaves and Huffman also recorded kills.
In the match with Lyndon, Reaves and Alyssa Relph each had a pair of kills for Altoona-Midway. Martin was credited with four digs while Bennett and Huffman notched three digs apiece and Mariah Stackhouse added an ace.
AMHS assistant coach Bryn Dick said the Lady Jets varsity had a pretty rough night as far as receiving serve was concerned.
"Coach D took the varsity and I coached the JV since it was their first game as a team," noted Lady Jets head coach Treasure Scott. "It was her (Coach Dick's) first time coaching a game as well. She said not having the extra subs we usually use seemed to throw the girls off a little.
"But Coach D said she was still very proud of the girls."
Altoona-Midway split their two junior varsity matches. The Lady Jets jayvee dropped a tough three-set battle with the Lady Trojans 25-22, 20-25, 25-17; but then bounced back to defeat Lyndon 25-20, 25-11.
"I was proud of the hard work and the fight showed by the girls all night long," Scott said.
Leaders for the Lady Jets jayvee in the stat department during the three-set thriller against Marais des Cygnes were Summer Tarlton with seven aces; Hailey Stewart and Sierra Eaton with four kills apiece; and Makayla Wood with 12 digs while Kyra O'Connor and Natalie Davis added 10 and nine digs, respectively.
Against the Lyndon JV, Davis and Wood each smashed five aces, while Wood collected 10 digs, Tarlton garnered seven and Davis added six digs.
"We played our speed of volleyball against Lyndon, and the score showed it," Scott said.
Altoona-Midway was scheduled to jump right back into action Tuesday, traveling to Cherokee for another triangular.