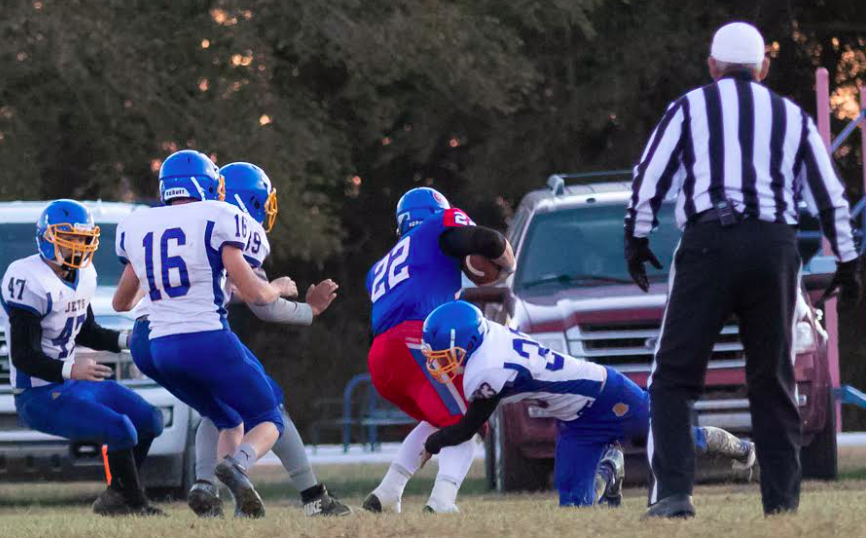 A-M Final Game 2019
Jeff Almond
Sunday, November 03, 2019
ALTOONA-MIDWAY HIGH SCHOOL FOOTBALL
LOST SPRINGS – Unfortunately, it was all tricks and no treats Halloween night for Altoona-Midway High School as they closed out their 2019 football season with a 56-0 loss to a strong Centre High School team here Thursday evening.
The game marked the opening round of the Eight Man-Division II football playoffs.
The Jets closed out their season with a 2-7 record, which included a 2-3 district record and a 2-4 mark in Three Rivers League action.
The Centre High School Cougars, now riding the crest of a six-game winning streak, moved to 7-2 on the year. The Cougars will continue on to the second-round of the eight-man playoffs next week.
During their six-game win skein, Centre has outscored their opponents by a whopping 314-6 margin.
"Centre was a big, physical team," noted AMHS head coach Chad Raida. "We were only down 14-0 at the end of the first quarter, but turnovers doomed us from that point on."
Altoona-Midway's offense was stymied by three turnovers, as they lost two fumbles and one interception. The Cougars also returned a punt for a TD.
The Jets did get a couple of big yardage plays from senior Jimmy Willard, who finished with a team-high 75 yards on nine carries. Fellow senior Dayton Marsh tacked on 34 yards on 13 attempts.
"We just struggled to get them blocked," Raida noted. "Jimmy broke off a couple of nice 33-yard runs, but we were unable to get anything to show for them."
Defensively, the Jets were led by Josh Meigs with six tackles, while Willard and Marsh were credited with four apiece.
The game marked the final appearance donning the Jets' Blue and Gold livery for four Altoona-Midway grid seniors: Jimmy Willard, Dayton Marsh, Caleb Simms, and Kendall Pierce.
"You hate to see it end for the seniors," Raida commented. "My heart goes out to these guys and I wish them nothing but the best in the future."