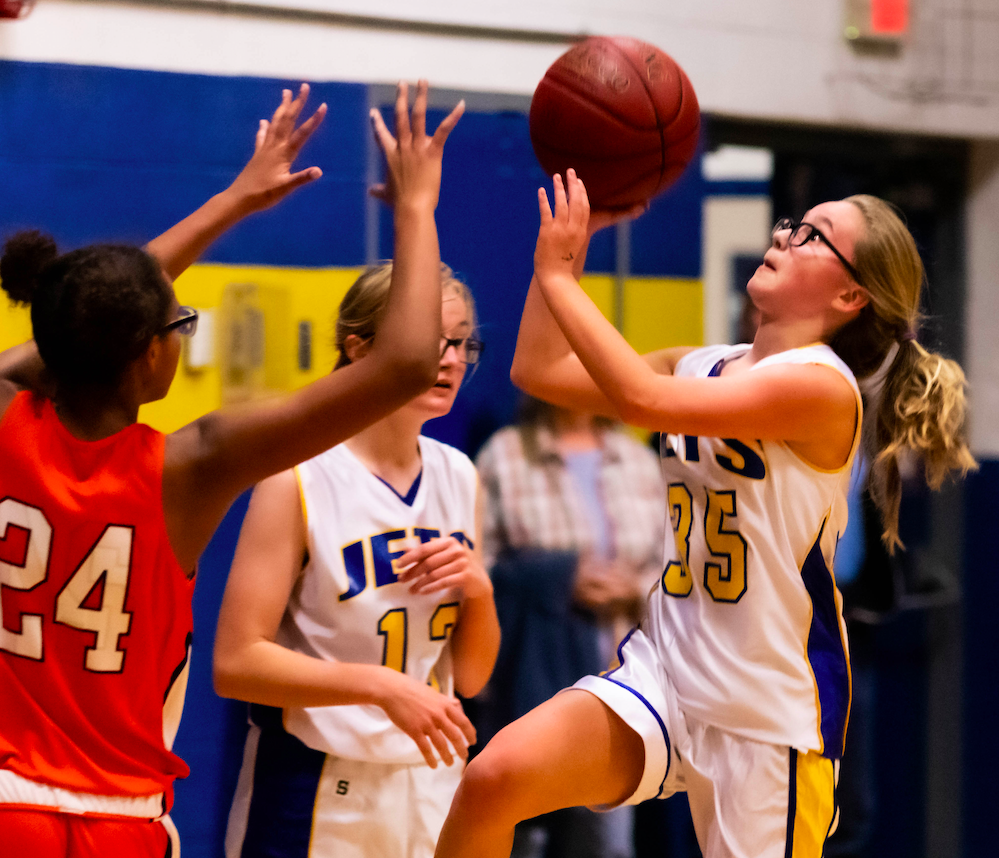 AMMS Basketball
Jeff Almond
Wednesday, November 06, 2019
ALTOONA-MIDWAY MIDDLE SCHOOL BASKETBALL
BUFFALO – The Altoona-Midway Middle School basketball teams opened their respective 2019-20 seasons at home Tuesday night, falling in a pair of games with the visiting Marmaton Valley Wildcats.
Marmaton Valley started things off with a 41-8 victory in the girls' game, and completed the sweep with a 38-22 win in the boys' contest.
The Lady Wildcats jumped out to a 16-0 first quarter lead, led by Janae Granere who poured in 10 points in the opening period. Marmaton Valley increased the margin to 24-2 at half en route to the victory.
Granere finished with a game-high 21 points while Payton Scharff added 10 for the Lady Wildcats.
Ava Hufford scored all eight points for the Lady Jets, while Summer Raymond and Autumn Raymond each came up with a pair of steals.
"The girls played hard. Our shots just weren't falling," noted AMMS girls' coach Nikki Almond. "We have some adjustments to make."
In the girls' "5th quarter," Emmalynn Pupanek tallied four points but the Lady Wildcats won 6-4.
"Tonight was a learning experience for both the girls and I," Almond added. "I'm looking forward to the improvements we are going to make." In the nightcap, the Marmaton Valley boys got off to a similar hot start as they led 13-1 at the end of the first quarter. The Wildcats led 22-10 at halftime and went on to win 38-22.
"Despite the score, I saw a lot of positives out there tonight for our first game," said AMMS boys' coach Craig Null.
"We only had six players suited up to begin the game, and due to some negligence on my part, one of them fouled out in the first half, so we had to play the rest of the way without any subs," Null added. "They were tired at the end, but I was proud of them for hustling the entire time."
Kieran Foster paced the Jets offense with eight points, while William Stackhouse scored seven, Jacob Meigs netted five and Jayah Turner added two.
Marmaton Valley's Brayden Lawson fired in 19 to lead all scorers, while Jaedon Granere chipped in eight.
The Wildcats also won the 5th quarter by a score of 9-4. Foster and Lane Poeverlein each had a bucket for the Jets.
AMMS is off next week and will resume play Monday, Nov. 18, when they host Flinthills.