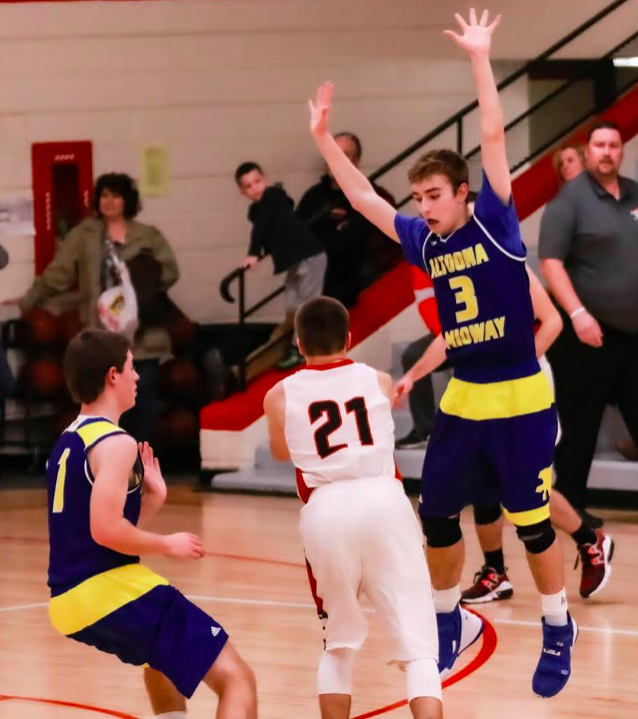 AMHS vs. Flinthills
Jeff Almond
Saturday, January 18, 2020
ALTOONA-MIDWAY HIGH SCHOOL BASKETBALL
ROSALIA – The Altoona-Midway High School basketball teams opened the 2020 portion of their season here Monday evening, dropping a pair of games to the host Flinthills Mustangs.
Flinthills posted a 52-15 victory in the girls' contest, and then the boys' game saw the Mustangs ring up an 82-67 triumph.
The doubleheader was a make-up date from games originally scheduled Dec. 17, one of two scheduled Jet twinbills postponed by inclement weather last month.
AMHS Girls
The Lady Mustangs stormed to a 17-6 first-quarter lead, expanded the advantage to 30-12 at halftime and 44-12 after three periods.
"Tonight we hit a hot-handed Flinthills squad," noted AMHS girls' coach Ron Rice. "They ran a set in the first quarter that gave us trouble and we gave up some easy shots. After talking about it we were able to stop that set, but even so, Flinthills was able to hit their open shots. They also hurt us during transition by beating us down the floor. I will take the blame in this regard since I didn't have them in good enough condition, but we will make it a priority before our next game on Friday against Chetopa."
Natalie Davis, returning to action after sitting out three weeks with a broken finger, led the Lady Jets with nine points, while Mariah Stackhouse added four and Bailey Graham chipped in two.
Donner and Sorum led the Lady Mustangs with 16 and 13 points, respectively.
"One bright spot was our help defense," Rice said. "It was better than it has been in recent games. Summer Tarlton was all over the floor being disruptive for us."
AMHS Boys
In the nightcap, Altoona-Midway enjoyed a 20-15 lead at the quarter and a 34-30 advantage at intermission. But Flinthills scored 52 points in the second half to post the come-from-behind victory.
"Tonight is a tough one to take. We came out strong and did some good things, but once again we found ourselves in foul trouble," noted AMHS coach Jeff Almond. Jet starters Caden Carter, Joshua Meigs and Dayton Marsh all fouled out.
"Give Flinthills credit. They got hot the second half," Almond said. "You're not going to win very many games giving up 32 pts in the fourth quarter - or any quarter."
Carter and Jackson Ashmore shared individual scoring honors for the Jets with 14 points each, while Marsh and Meigs fired in 12 and nine before fouling out.
Carter and Dawson Ashmore each hauled in eight rebounds to help AMHS to a 30-24 advantage on the boards.
The Altoona-Midway boys are now 1-5, while the Lady Jets fell to 0-6.
AMHS will play before their home fans for the first time this season on Friday, when they host the Chetopa Hornets.
"We're going to work hard in practice this week as we prepare for our first home game of the season Friday against Chetopa," Almond said. "It is going to be nice to finally play in front of a home crowd. We hope to fill Milo E. Peterson and come away with a victory."