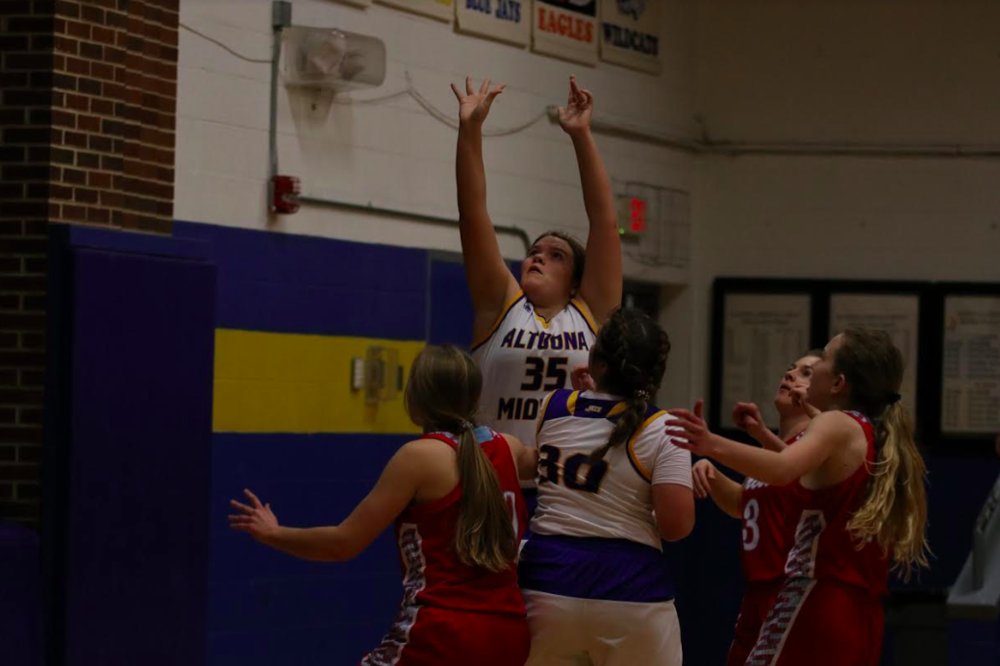 AMHS vs. Crest
Jeff Almond
Monday, February 03, 2020
Wednesday, Jan. 29, 2020
ALTOONA-MIDWAY HIGH SCHOOL BASKETBALL
BUFFALO – After a less-than-impressive showing just three days earlier in the fifth-place game of the Pleasanton Tournament, the Altoona-Midway High School boys' coaching staff challenged their squad – as well as themselves – prior to Tuesday night's make-up contest with Colony-Crest High School.
The Jets' response was a positive one, as AMHS put together an outstanding effort that resulted in an impressive 53-41 victory over the Lancers before the home fans at Milo Peterson Gymnasium.
In the preliminary varsity contest for the evening, the Crest girls posted a 53-21 victory over the Lady Jets.
AMHS Boys
"The kids came out focused and ready to play. We had to have a good performance tonight after last Saturday's dreadful showing against Oswego, and we did," said AMHS head coach Jeff Almond.
"We asked each player what he was going to do to help the team win. We challenged the boys to do their part and said we (Almond and assistant coach Lane Huffman) would do ours.
After a 21-21 standoff in the first half, Altoona-Midway built a slim 34-31 advantage heading into the final period. The Jets then outscored the Lancers 19-10 in the final eight minutes to win going away.
"We were very good from the free throw line tonight," Almond noted. "We were 22 out of 26 for the game including 11-of-12 in the fourth quarter. They stepped up with ice in their veins and converted."
Joshua Meigs and Jackson Ashmore led a balanced Jet scoring attack with 13 points each. Dayton Marsh also reached double figures with 12, while Caden Carter chipped in nine. Dalton Smith and Conner Houghton rounded out the AMHS scoring with four and two, respectively.
"I could not be prouder of our guys tonight. They came out and forced Crest to play the style of game that gives us the best chance to win the game. When we do that, we can be pretty good."
With the win, AMHS improved to 4-8 on the season. It also evened the Jets' conference mark to 2-2 in the Three Rivers League.
AMHS Girls
Although the Lady Lancers led from start to finish in their 53-21 win, AMHS girls' coach Ron Rice was still able to come away with some positives.
"Statistically, this was one of our best nights of the season," Rice said. "It was the best we have rebounded all year. We had six girls in the scoring column as well.
"In the first half, we couldn't hit our open looks and rushed some shots if we couldn't find an open one," he added. "But in the second half we settled down and ran our offense better and didn't rush as many shots."
Bailey Graham led the Lady Jets with seven points, while Natalie Davis scored five and Mariah Stackhouse added four. Josie Huffman and Shia Bennett each chipped in two points, while Emma Martin hit a free throw.
Crest got 12 points from Rylee Beckmon, 11 from Aubree Holloran, and 10 from McKenna Hammond.
"Crest did a fantastic job of switching defenses throughout the game to keep us on our toes," Rice noted. "We will continue to work on our fundamentals and get ready to host Oswego on Friday."
The loss dropped the lady Jets to 0-12 overall and 0-4 in the TVL.