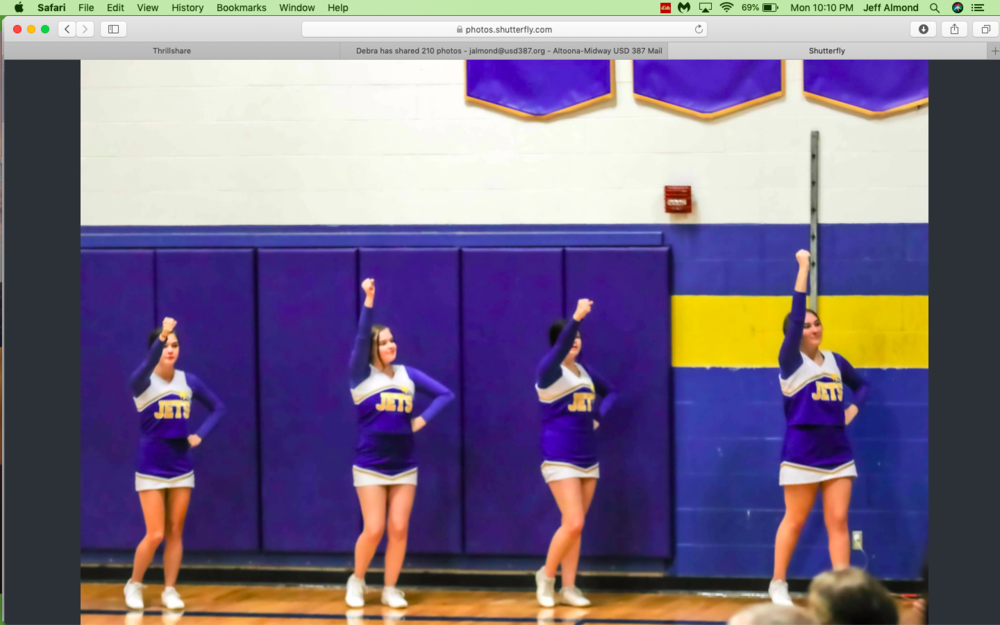 AMHS Basketball 02/07/2020
Jeff Almond
Sunday, February 09, 2020
Feb. 7, 2020
ALTOONA-MIDWAY HIGH SCHOOL BASKETBALL
BUFFALO - The Altoona-Midway Jets won their fourth consecutive game Friday night, using a strong first half to turn back the Pleasanton Blu-Jays 51-45 before a raucous crowd at Milo Peterson Gymnasium.
Pleasanton salvaged a split of the varsity high school doubleheader, winning the girls' contest 46-19 despite a spirited effort by the Lady Jets.
AMHS Boys
Friday's 51-45 win marked the fifth win in the past six games for the streaking Jets, who now stand 7-8 overall, but more importantly improved their record to 5-2 in the Three Rivers League.
"We're excited to be where we are right now but we are not satisfied," said Altoona-Midway head coach Jeff Almond. "The kids want more. I'm proud of our progress and we'll work them hard to continue to get better.
The Jets appeared to be on their way to an easy win, taking a 32-17 halftime lead. But the visiting Blu-Jays refused to fold, cutting the deficit to 44-31 after three periods and getting within six at the final buzzer.
"I was really pleased with the first half. We came out pretty good tonight," Almond noted. "The second half was another story. We were unable to guard their shooters in the second half. Luckily, we had a 17-point lead at half-time. We were able to hang on and get the "W".
"I was proud of our guys tonight. When we buckled down and took care of business in the last few minutes of the game," Almond continued. "At times it seemed like we were playing not to lose instead of to win."
Joshua Meigs connected for 16 points to pace the potent AMHS attack, while Caden Carter and Dayton Marsh also recorded double-digits with 11 and 10, respectively. Jackson Ashmore scored eight points, Dawson Ashmore netted four and Conner Houghton added two.
Freshman Dale Gillespie fired in 22 points for Pleasanton while Aden Dumcum added 16.
"A huge shout-out goes to our fans tonight," Almond added. "They were amazing. They definitely came to life in the final minutes of the game and the kids responded."
AMHS Girls
In the earlier game, the Lady Jets put together one of their better games of the season, especially on defense, before running out of steam in the final period and finishing on the short end of the 48-19 final.
Pleasanton led 9-4 at the quarter and 20-9 at halftime. The Lady Jets still only trailed 28-15 entering the final stanza, but were outscored 18-4 over the final eight minutes.
"Tonight we had one of our best defensive nights," said AMHS girls' coach Ron Rice. "We were able to rebound better than the past few games, led by Natalie Davis with 13. Pleasanton has some girls with height, but we were able to limit them by playing good team defense.
"Offensively, we are still working out the kinks of being in new positions due to injuries, but we are starting to see our potential," Rice added. "We had some good looks at the basket with everyone taking an attempt. We will be able to take some positives from tonight and build on them for next week."
Mariah Stackhouse once again led the Lady Jets' offensive production, pouring in 11 points on the evening. Davis rattled the nets for six points, while Emma Martin accounted for the other two points.
Emma Sabine paced the Pleasanton attack with 14 points, while four other players scored at least six points for the Lady Blu-Jays.
The loss dropped the Lady Jets to 0-15 overall and 0-7 in the TRL.
Altoona-Midway will hit the road on Tuesday to Leroy, squaring off against Southern Coffey County in a non-league contest.