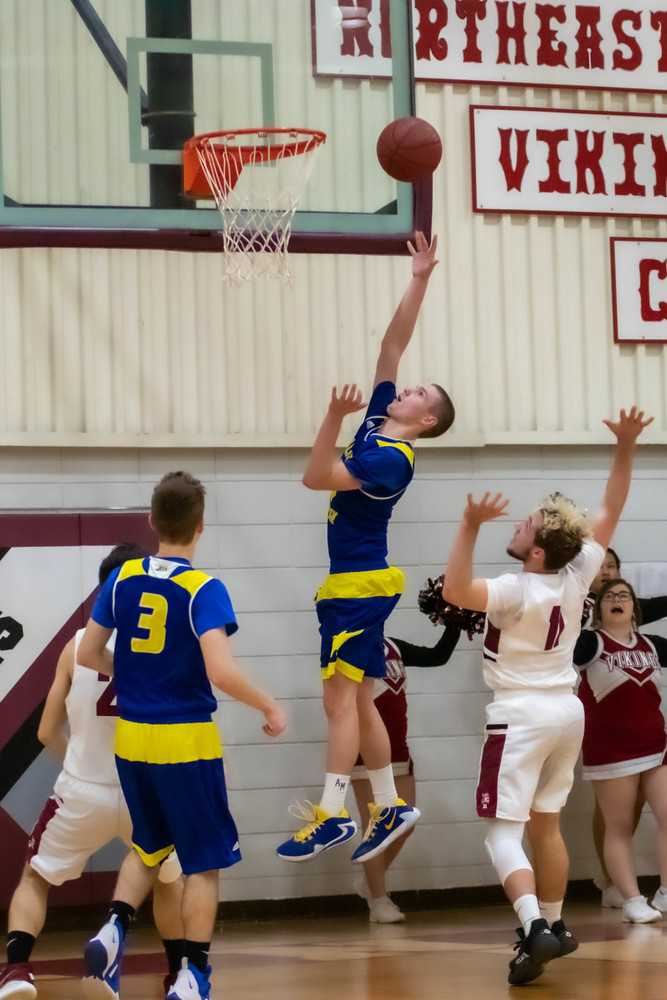 AMHS Basketball at Northeast
Jeff Almond
Friday, February 14, 2020
Friday, Feb. 14, 2020
ALTOONA-MIDWAY HIGH SCHOOL BASKETBALL
ARMA – Classes at Altoona-Midway High School were not in session Thursday due to arctic temperatures and potential hazardous early-morning travel.
Unfortunately, the AMHS basketball teams appeared to take the evening off as well.
As a result, the red-hot Jets cooled off like the weather, as they saw their five-game winning streak come to an abrupt halt here when Northeast-Arma posted an impressive 80-52 victory.
The Lady Jets also had trouble getting started, and suffered a 59-22 setback to the Lady Vikings.
Both Altoona-Midway squads have little time to wake up. The Jets were slated to return home Friday evening to host powerful St. Paul High School. Both the Indians and Lady Indians are currently undefeated in Three Rivers League action. Both teams stand atop the league standings with 8-0 records.
AMHS Boys
Northeast's solid win allowed the hosts to leap-frog the Jets in the TRL standings. The Vikings improved to 7-3 in league and 9-8 overall while AMHS fell to 5-3 and 8-9.
"We simply were not ready mentally to play today," said a disappointed Altoona-Midway coach Jeff Almond. "It is always hard to prepare when you don't have school. But give Northeast credit – they controlled the game from the opening tip."
The Vikings jumped out to a 21-12 first-quarter lead and led 34-28 at halftime. Northeast enjoyed a 46-24 advantage after intermission, including a big 22-7 spread over the final eight minutes.
"It was a tough night for us again at the rim. We missed a lot of shots at the rim without getting fouled," Almond said. "We just couldn't get the ball through the hoop."
Jackson Ashmore and Dayton Marsh each tossed in 16 points for the Jets, while Caden Carter tallied eight and Dawson Ashmore added six.
Northeast enjoyed a tremendous one-two scoring punch from Jazper McCauley and Isaac Jurkovic, as they poured in 25 and 23 points, respectively.
AMHS Girls
The Lady Jets also had trouble getting their engines started in the cold weather, and as a result fell 59-22 in the opening game.
Northeast stormed to a 20-3 lead after just eight minutes of play. The lead bulged to 34-11 at halftime and 53-18 after three periods.
"We didn't play well enough tonight, plain and simple," said AMHS girls' coach Ron Rice. "We were lethargic from the tip until the finish. In the first half we let our frustrations get the better of us and we all suffered because of it. At half, Coach (Lea) Chickadonz and I told our girls to keep things positive and to let go of the negativity. We played a better second half, but still made too many mistakes."
Claffey scored 12 points in the opening quarter and finished with a game-high 22 for the Lady Vikings. Fox added 18 points for the victors.
Natalie Davis and Mariah Stackhouse led the Lady Jets with nine and eight points, respectively. Emma Martin scored three and Bailey Graham added two.