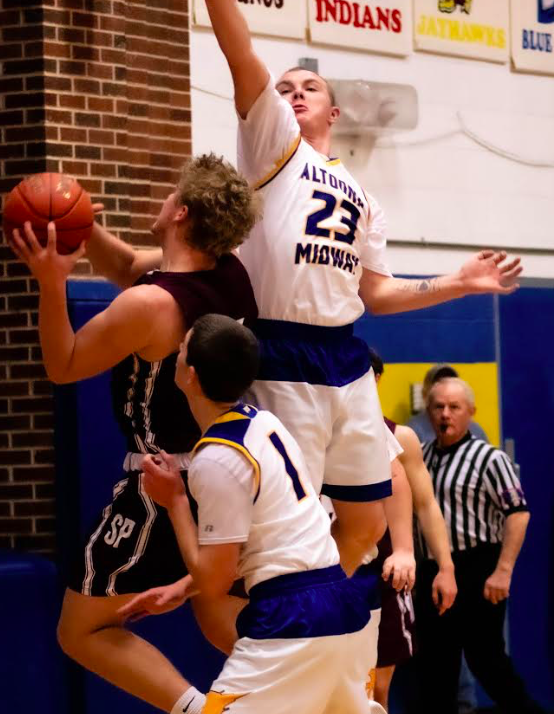 A-M vs. St. Paul
Jeff Almond
Sunday, February 16, 2020
Sunday, Feb. 16, 2020
ALTOONA-MIDWAY HIGH SCHOOL BASKETBALL
BUFFALO – It may have been Valentine's Day, but the St. Paul High School basketball teams were showing no love to their hosts from Altoona-Midway.
Friday night, both AMHS varsity squads found out first-hand what every previous opponent from the Three Rivers League had already discovered – St. Paul has a pair of very talented basketball teams.
The visiting Indians roared into Milo Peterson Gymnasium and left with a convincing sweep of the night's festivities. St. Paul captured the boys' contest by a 64-38 margin, after the Lady Indians had earlier posted a 61-21 triumph.
St. Paul remained in first place in both the boys' and girls' standings of the TRL, as each team improved to 9-0 in league play.
Meanwhile, the Altoona-Midway boys' fell to 5-4 in league action and 8-10 overall, while the Lady Jets are now 0-9 and 0-18.
AMHS Boys
The Jets suffered their second loss in as many nights after having their five-game winning streak snapped in a make-up contest Thursday.
St. Paul controlled the game from the outset, jumping to a 19-8 lead after one period. The Indians led 34-16 at the half and 48-24 after three periods.
"St. Paul is a very good team. They are the best team by far that we have seen this year," said AMHS coach Jeff Almond. "I can see them going deep in the play-offs."
Dayton Marsh led the Jets with 14 points, but was the only AMHS individual able to reach double digits. Dawson Ashmore scored seven, Josh Meigs six, Caden Carter five, Conner Houghton four, and Jackson Ashmore had two for the Jets, who shot a combined 29 percent from the field.
"We were getting shots. They were just not falling," Almond said.
The Indians were led by Chandler Bradshaw with 15 points, Adam Albertini with 12, and Easton Dent with 11.
"We need to have a good showing next week. Uniontown and Jayhawk-Linn are both going to be tough," Almond noted. "But if we can play like we are capable of playing, we can compete with both teams and hopefully get a couple of victories and some momentum heading to regionals."
AMHS Girls
In the opening contest, the St. Paul girls also showed why they are the cream of the crop in the TRL.
The Lady Indians raced to a 16-4 advantage in the opening eight minutes. They increased that margin to 37-10 at halftime, and led 55-18 entering the final period.
Mariah Stackhouse paced the Lady Jets with 10 points, including a four-for-four performance from the free throw line. Altoona-Midway also got five points from Emma Martin, four from Natalie Davis, and two from Kyra O'Connor.
St. Paul's attack was led by Coomes with 15 points, while Albertini and Harris each chipped in 10.
Altoona-Midway will close out the home portion of their regular season schedule on Tuesday when they host Uniontown.