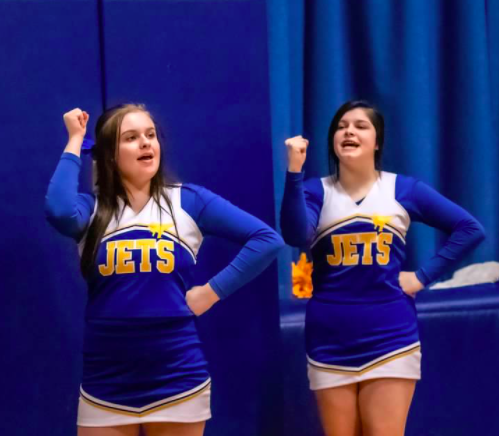 AMHS vs. Jayhawk Linn
Jeff Almond
Saturday, February 22, 2020
Saturday, Feb. 22, 2020
ALTOONA-MIDWAY HIGH SCHOOL BASKETBALL
MOUND CITY – Both Altoona-Midway High School basketball teams dropped their regular season finales to Jayhawk-Linn here Friday night.
Jayhawk-Linn captured a 56-32 victory in the boys' contest, while the Lady Jayhawks also posted a 58-20 victory.
But when members of the Jet squads woke up Saturday morning, there was no looking back – rather just forward to beginning postseason play this week in the KSHSAA Class 1A Regionals.
On the boys' side of the 1A Regionals, Altoona-Midway earned the second-seed and will host a regional playoff game for the first time in many years. The Jets will play Marmaton Valley (0-20) at 7 p.m. Monday at Milo Peterson Gymnasium.
Meanwhile, the Lady Jets will open regional play at 7 p.m. Tuesday with a road game at No.2 seed Chetopa (12-8).
AMHS Boys
The Jets are excited about earning a home game, and hopeful about their chances to earning another one. AMHS defeated Marmaton Valley twice by large margins, 61-29 and 71-31, during the regular season.
"It is a new season with regionals starting next week, but it is for Marmaton Valley as well," noted Jets head coach Jeff Almond. "We stressed to the guys that it is difficult to beat anybody three times and that we need to be ready for a real test on Monday."
Against Jayhawk-Linn, the AMHS offense sputtered, failing to reach the 40-point total for the third consecutive game.
"It was a really tough night. We couldn't get anything going offensively. Just a poor night shooting for us. We have to get more than 22 points from our starters," Almond stressed.
Almond hopes the Jet squad can regain the form that saw them rattle off five consecutive wins – and six out of seven contests – during a stretch in late January early February.
"The kids played hard but not with the same intensity that we had earlier in the season," he said.
Jose Meigs led AMHS with nine points, while Dayton Marsh added six and Dalton Smith five.
Altoona-Midway finished the regular season 8-12 overall and 5-6 in the TRL.
AMHS Girls
The Lady Jets stayed with Jayhawk-Linn for one period, trailing just 11-6, but fell behind 29-8 by halftime and never mounted a rally. AMHS girls remained winless in 20 games overall.
"We had too many mistakes tonight on the defensive end of the floor," noted coach Ron Rice. "We were not flowing to help around the floor and gave up too many baskets underneath. One positive on this end of the floor was Vonna O'Brien. She really impressed me with her hustle and played hard for us.
"Offensively, we looked better tonight than we have the past few weeks," Rice added. "They did a better job of looking to our cutters and hitting them when they were open. Our shot choice was also better even though the shots didn't fall."
Mariah Stackhouse once again led the Lady Jets offensively with 10 points. Emma Martin and Natalie Davis each added four points, while Kyra O'Connor chipped in two.
"Our girls need to be mentally tough on both ends of the floor for all four quarters," Rice said. "We will have to play better Tuesday when we travel to Chetopa if we want our season to continue."