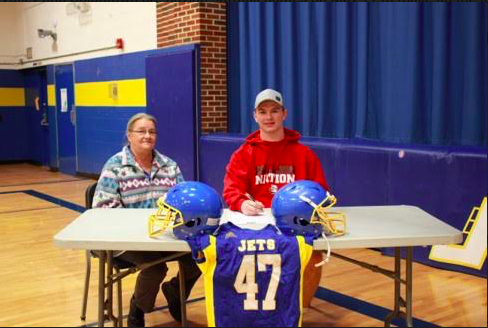 Marsh signs with McPherson
Jeff Almond
Tuesday, February 25, 2020
ALTOONA-MIDWAY HIGH SCHOOL Wednesday, Feb. 25, 2020
PRESS RELEASE
Jets' Marsh signs to play football at McPherson
BUFFALO – Altoona-Midway High School senior Dayton Marsh has signed a letter of intent to continue his athletic career at McPherson College next fall.
Marsh, a multi-sport athlete at AMHS, signed to play football for the McPherson Bulldogs.
"I want to congratulate Dayton on this accomplishment," commented Chad Raida, who was Marsh's head coach on the gridiron for his senior season. "He has been through many ups and downs in his life but has always prevailed.
"Dayton is a great kid both on and off the field," Raida added. "I wish him nothing but the best."
Marsh was a two-way standout for the Jets, serving as a running back on offense and a linebacker on defense. McPherson plans to utilize his skills as a linebacker in college.
"Dayton has worked so hard to become a better person, student, and athlete," noted AMHS principal Darrin Ashmore. "I have no doubt he will be successful both in football and in life."
Marsh plans to study criminology while at McPherson in order to become a criminal investigator.
McPherson College is a member of the Kansas Collegiate Athletic Conference. The Bulldogs finished 5-6 in 2019 and were 5-5 in the KCAC.