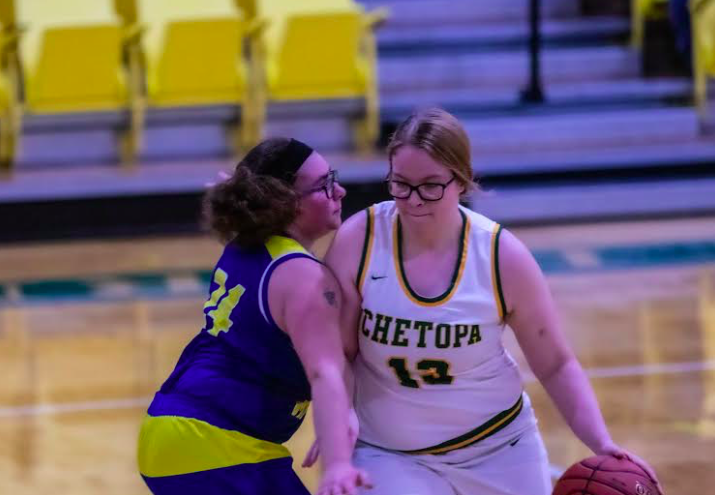 Lady Jets fall to Chetopa
Jeff Almond
Wednesday, February 26, 2020
Wednesday, February 26, 2020
ALTOONA-MIDWAY HIGH SCHOOL BASKETBALL
CHETOPA – As the prognosticators had forecast, the Altoona-Midway High School girls' basketball season came to an end here Tuesday night.
But for at least the first quarter, the Lady Jets had those clairvoyants scratching their heads – as well as perhaps throwing a slight scare into highly-favored Chetopa High School.
In the end, the second-seeded Lady Green Hornets restored order and pulled away for a 58-29 victory over seventh-seeded AMHS in the opening round of the Class 1A regional tournament.
Other results from the same 1A regional Tuesday saw both lower-seeded teams post victories, as No.5 Southern Coffey County squeezed past No.4 Marmaton Valley 37-35, and No.6 Oswego surprised No.3 Colony-Crest. Top-seeded St. Paul received a first-round bye.
Semifinal play now moves to Moran on Friday, with Chetopa squaring off against Oswego at 6:00 p.m. and St. Paul facing Southern Coffey County at 7:30 p.m.
Winners of those games will square off on Saturday for seeding purposes, but both finalists will advance to Class 1A sub-state play the following week.
With the postseason victory, Chetopa improved to 13-8 overall. Altoona-Midway finishes the season 0-21.
The Lady Jets put up a battle in the opening quarter, trailing just 13-10. AMHS might have held the lead after the initial period had the Lady Hornets not connected on four 3-pointers, including three by Brali Conrad, who would finish with a game-high 21 points.
"We had a great first quarter," said Altoona-Midway head coach Ron Rice. "We actually had made more shots from the field than Chetopa at that point, but they were just so hot from behind the three-point line."
Chetopa used a 15-2 second quarter to go up 28-12 put to rest any hopes of an upset.
"The second quarter we went cold and started rushing some things," Rice noted. "We were able to get back on track (offensively) in the second half, but defensively we had some mishaps with our help and gave up too many open shots."
Mariah Stackhouse and Natalie Davis supplied most of the offense for the Lady Jets, netting 13 and 12 points, respectively. Emma Martin and Kyra O'Connor each added two points.
"Bailey Graham did a great job finding our open shooters with some tight passes. She had excellent vision all night long," Rice added. "And defensively, Emma Martin played perhaps her best game of the season on the perimeter.
"I'm proud of the heart that my team played with every night," Rice said. "They improved as the year went on and I look forward to seeing what they can do next year."