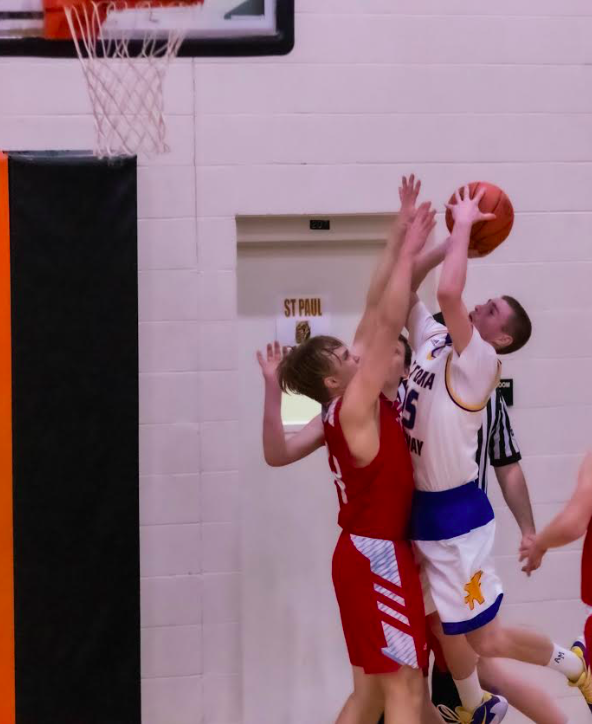 Jets Season Ends
Jeff Almond
Friday, February 28, 2020
Friday, Feb. 28, 2020
ALTOONA-MIDWAY HIGH SCHOOL BASKETBALL
MORAN – Earlier in the week, Altoona-Midway High School scored 33 points in the opening quarter of the Class 1A regionals.
It's a shame rules prohibited them from saving some of those points to use a few days later.
Against Colony-Crest High School here in Thursday's semifinal, the Jets could manage just six more points than that for the entire contest.
As a result, AMHS dropped a heart-breaking 42-39 decision to the Lancers in the game that decided which team would advance to next week's Class 1A subs-state action, and which team stored away their jerseys until next year.
Crest now moves into Saturday's regional championship against top-seeded St. Paul, as the Indians rolled past Oswego 54-36 in Thursday's other semifinal.
"At this point of the season, you really have to start well. We did not. We came out flat and dug ourselves a hole," said Altoona-Midway head coach Jeff Almond. "We probably missed 15 chip shots. We just could not get our shots to fall. We were getting our own offensive rebounds – sometimes three or four shot attempts right at the bucket and we would come away with nothing."
In direct contrast to Monday's first-quarter barrage, the Jets could only manage nine first quarter points, and things got worse in the second period. Crest led 17-9 at the quarter and 27-15 at halftime.
"We played much better the second half," Almond said. "It is the old story of how a team digs themselves a hole, expends a lot of effort and energy to get back in the game and then we just ran out of gas at the end.
"We were able to come back and take the lead early in the fourth quarter but just couldn't get it done. We had our chances down the stretch but couldn't sustain the energy level."
Caden Carter and Joshua Meigs were the top scorers for AMHS with 14 and 10 points, respectively. The Jets also got five points from Dalton Smith, four from Jackson Ashmore, three from Conner Houghton, two from Dayton Marsh, and one from Dawson Ashmore.
It was the second consecutive postseason thriller for Crest's Lancers, which opened regionals with a narrow 48-46 win over Southern Coffey County.
Altoona-Midway, only a little over one season removed from a losing streak that stretched for more than 100 games over a period of six years, closed out this season with a 9-13 overall record. The sudden finish to the year was particularly painful for the second-seeded Jets, since they had defeated Crest 53-41 in a regular-season matchup in late January.
"Getting three wins last season – after losing 100-plus straight games, was a great foundation for this season," Almond noted. "We were able to get nine wins this season and we expect even more next year."
Closing out their Jet careers were seniors Caleb Simms, Dawson Ashmore, Dayton Marsh and Caden Carter.
"Our seniors are a group of outstanding young men who gave it their all every day," Almond said. "I could not be prouder of them and they will always have a special place in my heart and I look forward to following their successes as they lay out their paths for their futures. It is our hope that they will take something from this season that will help them in life. They will be missed."
Almond also praised the support received from the Altoona-Midway fans.
"A big shout out to our fans this season. We were able to get more people in the stands this year then we have had for years," Almond noted. "The energy from the fans directly impacted the way we played. I hope our fans realize that and come out again next year as we will have some lofty goals next season with the kids we have coming back. We have a pretty good core group coming back and are looking forward to a successful season."