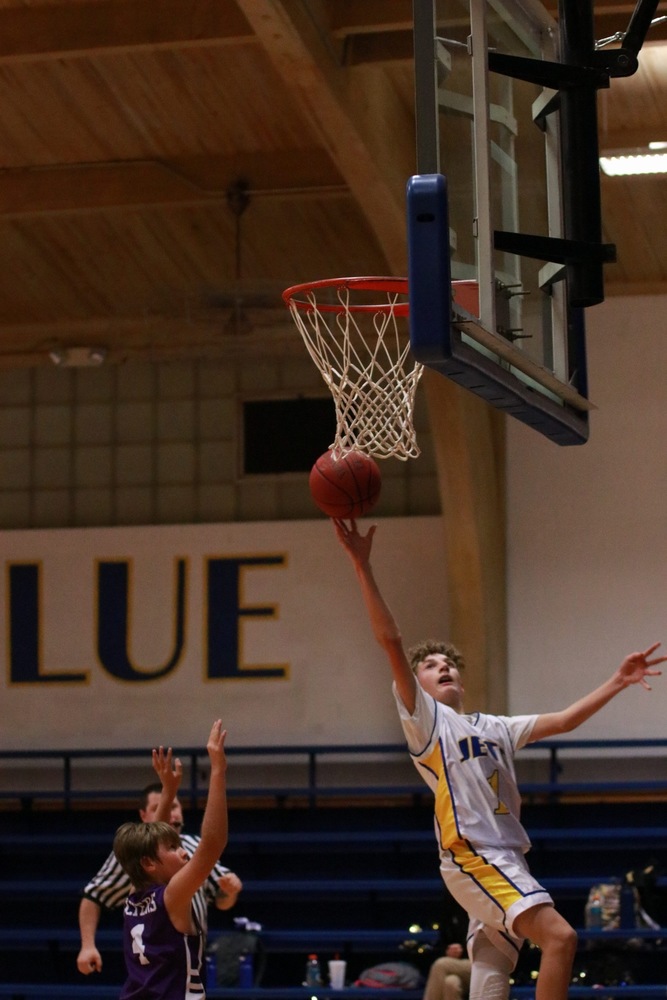 AMMS Boys Win Second Straight Game.
Jeff Almond
Wednesday, December 09, 2020
TUESDAY, Dec. 8, 2020
ALTOONA-MIDWAY MIDDLE SCHOOL BASKETBALL
BUFFALO – Make it two wins in a row for the Altoona-Midway Middle School boys' basketball team.
Playing at home for the first time this season, the Jets ran their winning streak to two games as they notched a 32-20 victory over Thayer Middle School. Meanwhile, the Lady Flyers made it a split of the evening as they defeated AMMS 27-4 in the opening contest at Milo Peterson Gymnasium.
AMMS Boys
Holding a precarious 15-14 lead at halftime, Altoona-Midway dominated the third period, outscoring the Flyers 11-2 to build a commanding 26-16 lead entering the final period.
Thayer was able to cut the lead to 27-20 with under two minutes remaining, but an old fashioned three-point play by Kieran Foster pushed the cushion back to double digits and the Jets secured the victory.
William Stackhouse led the AMMS offense with 11 points, while Foster was right behind him with 10 points. Aaron Maple finished with six points for the Jets.
Stackhouse also pulled down eight rebounds and had five steals, while Foster hauled in 13 rebounds for the Jets. Joey Lamendola handed out three assists.
In the absence of head coach Jeff Almond, the Jet boys were once again directed by AMMS principal Darrin Ashmore, along with Lady Jets' coach Michelle Morales.
"Both Darrin Ashmore and I are proud of the boys for playing hard and smart tonight," Morales said. "Our defense was looking the best it's been so far this season and on offense they were slowing down and running the plays. It's been such a joy to coach these young men and see the improvement in such a short amount of time. They work great as a team on the court."
Altoona-Midway now stands at 2-3 overall, but the Jets are 2-0 in Mineral Belt League play.
The boys' jayvee squads played a half Monday night. The Jets JV led 7-4 after the quarter, but Thayer rallied to win 19-14. Lamendola and Maple scored six points each for AMMS and Taj O'Conner netted two.
AMMS Girls
In the first game of the evening, The Lady Jets were unable to get anything going offensively as Thayer coasted to a 27-4 victory.
The Lady Flyers jumped to an 11-0 lead after just one period. The AMMS defense stiffened after that, allowing just 16 points over the final three periods, but were able to notch just one basket in each half.
"We had another slow start tonight," Lady Jets head coach Michelle Morales noted. "The girls did better in the second half but just couldn't get points. We are working on taking our open shots and not hesitating.
"But the girls have improved since Day 1 and they are starting to use what we have been teaching them," she added. "We will be practicing hard this week for our game Thursday."
Alexis Foudray tallied all four points for Altoona-Midway. Emmalynn Pupanek grabbed three rebounds, and Lexyn Bracken had two steals.
The Lady Jets are now 0-4 overall, 0-2 in Mineral Belt League action.