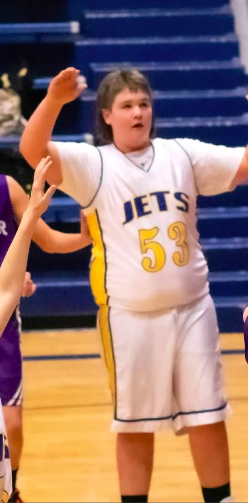 AMMS vs. Chetopa
Craig Null
Tuesday, January 19, 2021
TUESDAY, Jan. 19, 2021
ALTOONA-MIDWAY MIDDLE SCHOOL BASKETBALL
CHETOPA – It was a good day to be a Jet, as the Altoona-Midway Middle School basketball teams claimed a sweep of their Mineral Belt League doubleheader against the Chetopa Hornets here Monday afternoon.
The Lady Jets got things started on the right track with a narrow 13-10 victory in the opener. The AMMS boys left little doubt about the nightcap, rolling to a 40-12 triumph.
AMMS Girls
The Lady Jets prevailed in the low-scoring affair by using great team defense, good rebounding, and the offense of Emmalynn Pupanek.
Chetopa broke an 8-8 halftime deadlock to go up 10-8 early in the third quarter. But from that point on, Pupanek would be on the only player on either side to score, dropping in the final five points of the game.
Pupanek hit a bank shot to knot the game 10-10, then gave AMMS the lead with a free throw late in the third period. She iced the game with a layup on a tremendous assist from Lexyn Bracken.
"Even though we allowed Chetopa to set the pace for the majority of the game we pulled out a win," said AMMS girls coach Michelle Morales. "I was proud of our girls playing strong and hustling toward the end of the game. I am also proud of the sportsmanship our girls showed and the mental strength they showed. Yes, we needed to hustle more and make better passes, but I'm very proud of them for showing up to win the game."
Chetopa launched a pair of potential game-tying three-pointers in the final half minute, but could not connect.
Pupanek finished the game with nine points. Bracken and Chantal Morales also tallied buckets in the first half for the Lady Jets.
Autumn Raymond pulled down 12 rebounds to pace AMMS, while Pupanek grabbed 10. Morales recorded three steals.
The Lady Jets, winners in three of their last four games, now stand 3-5 overall and 3-3 in MBL action.
AMMS Boys
William Stackhouse and Kieran Foster both recorded double-doubles as Altoona-Midway breezed to victory in the boys' contest.
Early three-point baskets by Foster and Joey Lamendola set the tone as the Jets raced to a 15-4 first quarter lead.
The Jets increased their advantage to 26-10 at halftime, and led 33-12 after three periods en route to the 40-12 final.
Stackhouse finished the with game with 15 points and a whopping 17 rebounds, while Foster tossed in 10 points and pulled down 14 rejects. Lamendola also reached double digits in scoring, ending with 10, while Braxton Whittlake scored three points and Taj O'Connor added two.
"William and Kieran were definitely the 1-2 punch tonight," said AMMS head coach Jeff Almond. "They both played hard and fought for every rebound they got. To see them both get a double-double is pretty exciting.
"Joey Lamendola stepped up and hit some big shots for us tonight. He ended up 10 points, his highest of the season. It was also nice to see Braxton Wittlake score for us tonight. His hard work is paying off.
"We had 25 offensive rebounds," Almond added. "That sounds like a great number, until you realize it means we missed a lot of easy shots. We have to be better for Thursday's game at St. Pats."
The Jets increased their overall mark to 5-4 and now stand 5-1 in MBL play. They have the opportunity to avenge their only league loss Thursday, when they travel to Parsons to face St. Pats.