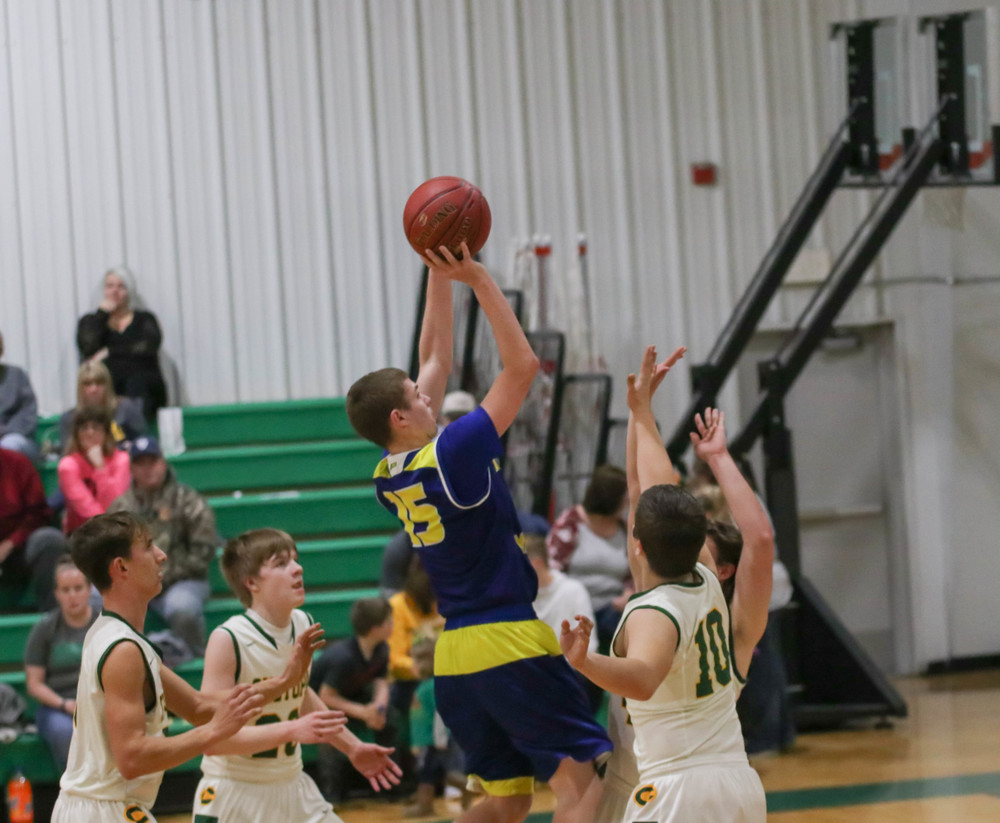 AMHS 1/4/19 WIN Over Chetopa
Craig Null
Monday, January 07, 2019
CHETOPA- For the Altoona-Midway boys' basketball team, this wasn't just a monkey on their back.
It was more like a baboon.
A 500-pound weight? More like a ton.
But the larger the obstacle, the greater the satisfaction after having overcome that barrier. And no doubt there are still some gigantic smiles on the faces of Jet players, coaches and fans today.
For the first time in more than six years, the Altoona-Midway High School boys tasted victory in a varsity basketball game, defeating the Chetopa Hornets 37-31 here Friday night.
While there are conflicting reports on the exact number of the losing skein, it can be confirmed that the streak was over 100 games. Friday's victory was the first for a Jet cage squad since a 58-44 win over Elk Valley in a sub-state tournament game on March 1, 2012.
"To say the kids were pretty excited after the game tonight would be an understatement," said an elated AMHS Head Coach Jeff Almond, who is in his first year at the helm of the program. "It was like the weight of the world was lifted off their shoulders. Not winning a varsity game in six years is quite a load off for the kids."
But despite their absolute elation over finally snapping the long losing streak, the Altoona-Midway squad exhibited great class in victory, saving most of their jubilation for the locker room.
"After we went up by six with 20 seconds to go, I called timeout and told the guys what we needed to do. But I also told them it's not cool to celebrate on another team's home floor, and to save the celebration for the locker room. They did awesome. That just shows you what kind of kids we have here. I am so happy for them and they definitely deserve this."
"We really came together as a team when we needed it the most," said AMHS junior and co-captain Dawson Ashmore. "I'm really proud of all of our guys. To break the streak with this team was something special and we will continue to build from here."
"Yeah, it was a big achievement for us winning for the first time in six years," said fellow co-captain Clement Huffman, the only senior on this year's Jet squad. "We hope to take this win and carry it through the rest of the season and improve more."
Chetopa led 8-6 after the first period and 24-18 at halftime. But some changes to the Jets' full-court press bothered the Hornets as they were limited to just seven points in the second half. Altoona-Midway vaulted ahead 29-27 after three quarters, and then kept their composure during the frenzied fourth period and came away with the satisfying victory.
"The press was the key factor tonight," Almond noted. "It caused multiple turnovers and rushed shots by Chetopa."
Almond gave credit for tweaking the press at halftime to his assistant coach, Lane Huffman.
"Coach Huffman made a few adjustments on our press at halftime, and the kids really responded with a great effort. They settled in and had a great second half, allowing just seven total points."
The victory was also very meaningful to Coach Huffman, who was a junior and a member of the Jet squad that won the sub-state game back in 2012.
"I am very proud of how our guys have shown up this season ready to get better and win some games," Coach Huffman said. "I've coached teams and played on teams that struggled to win games. I was a junior on the team the last time Altoona-Midway experienced a win. I'm ecstatic to be back in the community helping the basketball program reach success."
Altoona-Midway got a gigantic boost offensively from junior Dayton Marsh. The 6-1 junior came off the bench to lead the Jets in scoring with 16 points. Clement Huffman, brother of the assistant coach, also reached double figures as he finished the game with 10 points.
Rounding out the scoring for AMHS were Jackson Ashmore with five points and Caden Carter and Dawson Ashmore with three apiece.
"Obviously, Dayton was a key factor for us offensively tonight. He came off the bench and had a great game for us," Almond said.
"But it truly was a total team victory," he added. "Along with our press, we had our best overall game defensively tonight. "On offense, we only committed 12 turnovers, which was a big improvement over recent games. We also pulled down 24 rebounds. Rebounding has been a point of emphasis for us over the last several weeks, and the hard work paid off tonight."
Carter and Huffman each hauled down six rebounds for the Jets, while Marsh grabbed five caroms. Four of Carter's total were on the offensive boards.
Chetopa was led in scoring by Brenner with 14 points and Smith with six.
Almond noted that a good group of Jet fans made the road trip and were able to witness history being made.
"Our fans were very vocal. They were definitely an asset tonight," he said.
The victory actually also snapped two even longer losing streaks – at least chronologically –for the Altoona-Midway boys.
It was the first regular-season win for the Jets since beating Pleasanton in a non-league game on Jan. 25, 2011. And prior to Friday, the last time AMHS had come out on top in a league contest was when they topped St. Paul 41-36 on Feb. 13, 2009.
While acknowledging that the Jets have to learn how to walk before they can run, Almond expressed optimism for the future of the program if the squad will continue to work hard.
"We're young. We only have one senior, and at one point in the game we had three freshmen on the floor," Almond said. "Jackson Ashmore and Dalton Smith both started, and Conner Houghton came off the bench and gave us some valuable minutes.
"It was an incredible feeling. Good times – and there's more to come, I hope," he continued. "We still have a long way to go, but it's obviously a step in the right direction.
"But the kids loved how it felt, and I think they are willing to do what it takes to feel this way more often. Before, they did not know how to win and they had no confidence. But they have worked hard all year and they are finally buying in to our system. It was an awesome night and I am so happy for all of them." Altoona-Midway faces a talented opponent when they return to the hardwoods Tuesday night, traveling to Cherokee to face the Southeast Lancers, coached by Dan Wall.
Chetopa girls 55, Altoona-Midway 27 In the preliminary bout to the exciting boys' victory, the Altoona-Midway girls were unable to find the win column as the Lady Hornets posted a 55-27 triumph.
Chetopa led 13-4 at the quarter, 26-8 at halftime, and 44-20 after three periods. Conard poured in 24 points to pace the Lady Hornet attack, while Sanders finished with 10.
"We came out really flat tonight," said AMHS girls' head coach Ron Rice. "With injuries and sickness, we were battling before the opening tip, but we had issues finding open shots and struggled to keep up with Chetopa defensively.
"As with every other game this year we made adjustments at half and came out stronger in the second half," Rice added. "We still haven't put together a whole game yet and we will surprise a lot of people when we put it all together."
Michala Kinzle was one of the few bright spots offensively for the Lady Jets, accounting for 17 of their 27 points. Mariah Stackhouse and Jasmine Splechter rounded out the scoring for AMHS, chipping in six and four points, respectively.
"Defensively, Mariah and Michala were our leading rebounders as well as leaders in steals," Rice noted. "We will work on ways to come out stronger in the first half as well as ways to improve offensively."