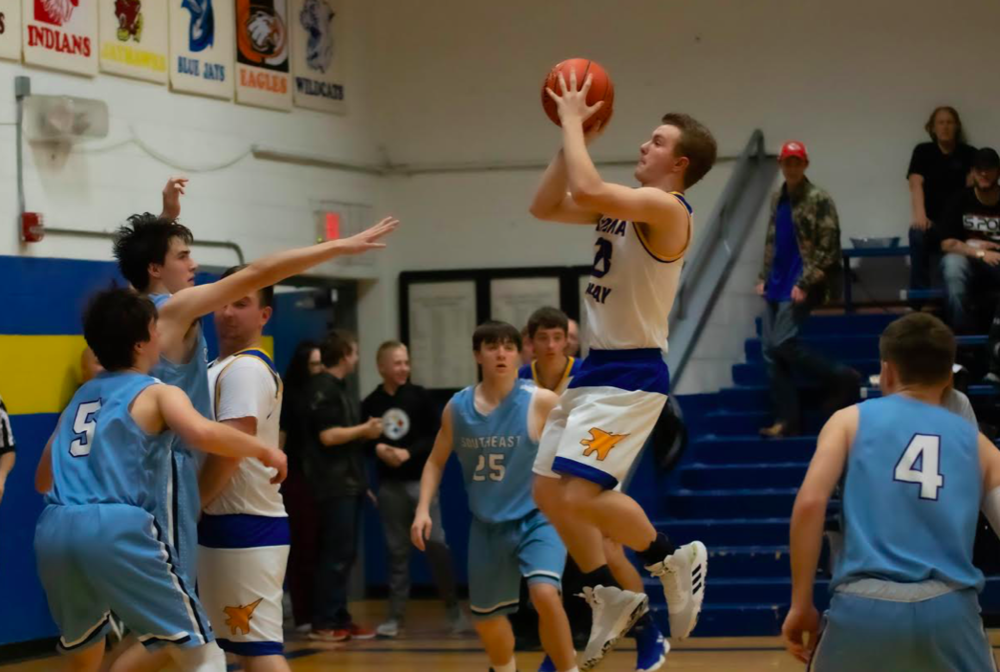 AMHS vs. Southeast
Jeff Almond
Saturday, January 18, 2020
ALTOONA-MIDWAY HIGH SCHOOL BASKETBALL
BUFFALO – The Southeast High School Lancers rode into Milo Peterson Gymnasium and swept a pair of varsity basketball games against the Jets of Altoona-Midway High School.
But the similarity ended there. One victory came fairly easily, but the other was much more of a struggle than the final score indicated.
The Lady Lancers opened the evening with a 41-3 domination of the AMHS, and that was followed up by a hard-earned 57-45 victory by the Southeast boys in the nightcap.
AMHS Boys
"The kids played their hearts out tonight. Although the scoreboard doesn't show it, this was our best game of the season," said AMHS boys' coach Jeff Almond. "They gave it all they had and left everything on the floor. The kids know that they can compete and get opponents to play our game."
The inspired Jets (2-6) played Southeast to a 29-29 deadlock through the first two quarters, capped off by a 40-foot trifecta from sophomore Jackson Ashmore just before the first-half buzzer.
A poor third quarter allowed coach Dan Wall's Lancers to pull ahead by 10 and doomed the upset hopes for AMHS, but they continued to battle before a raucous home crowd.
"That (third quarter) was the difference in the game. But we finally had a game where we didn't have foul trouble," Almond noted. "We moved our feet instead of reaching and communicated well. It was a great defensive game for us."
The Jets enjoyed a balanced scoring attack offensively. Joshua Meigs paced the attack with 11 points, Caden Carter and Dayton Marsh also reached double digits with 10 apiece, and Ashmore finished with nine.
The Lancers were led by Cade Burnett with 19 points and Nate Jacobs with 18. Jacob Tavernaro chipped in with 13.
"It was a game that nobody expected us to win. Although we didn't win the game, we gave them all they wanted," he added. "We will build on this as we get ready for Crest Friday."
AMHS Girls
The Lady Jets (0-8) just simply couldn't get anything going offensively against Southeast, as the host squad was only able to generate three points the entire evening.
Altoona-Midway's entire point production came via a second-quarter three-point basket by sophomore Natalie Davis.
"Tonight was a rough night for the Lady Jets," said girls' coach Ron Rice. "We struggled to get anything going on offense and couldn't get out of our own ways. We've been working on how to overcome challenges that we've been facing, but we still have a ways to go."
Southeast blanked AMHS 14-0 in the first period and led 24-3 at intermission. Railey Robertson and Katie Bitner were the top threats for the Lady Lancers, scoring 13 and 12 points, respectively.
"Some positives from tonight were that our reserve players played with fire when out on the floor," Rice added. "Josie Huffman gave me some good defensive minutes and fought for some loose balls. Kyra O'Connor also did well getting some rebounds and showing some aggression.
"We'll continue to work and I'll do my best to get the team ready for our game on Friday against Crest."
Tuesday night's action marked the middle of a three-game homestand for AMHS. The Jet squads will be at home again Friday night, hosting Crest High School.