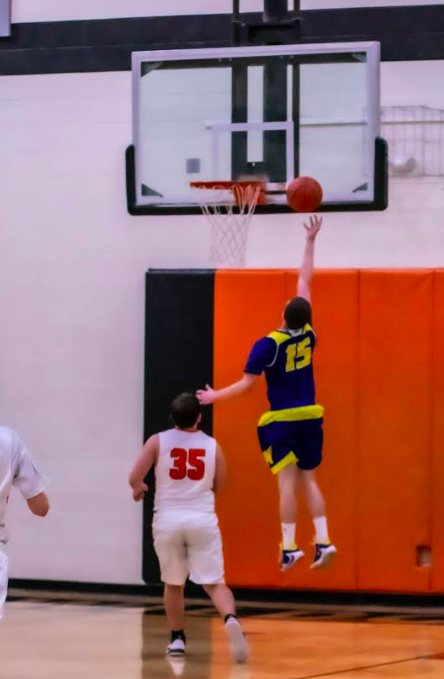 Altoona-Midway vs Marmaton Valley
Jeff Almond
Wednesday, February 05, 2020
Wednesday, Feb. 5, 2020

ALTOONA-MIDWAY HIGH SCHOOL BASKETBALL
MORAN – Time waits for no one.

That was especially true as Altoona-Midway and Marmaton Valley squared off in a
basketball twin bill here Tuesday night. Each high school saw one of its teams build a lead large
enough to secure a running clock in fourth quarter action as they split the Three Rivers League
doubleheader.
Host Marmaton Valley won the girls' contest 53-23 over the Lady Jets, while the boys'
contest saw AMHS stay red-hot as they coasted to a 71-31 triumph over the Wildcats.
AMHS Boys
Altoona-Midway is raising eyebrows around the Three Rivers League. The Jets are now
on a three-game winning streak – all in league play – and have won four of their last five
games.
Tuesday, AMHS used a full-court press to rattle Marmaton Valley throughout the first
half, and the Wildcats were never able to mount a threat. The Jets blazed to a 25-9 first-quarter
lead, then built the advantage to 44-19 at halftime, coasting to the 71-31 victory.
"The kids came out and controlled the tempo of the game from the start," said AMHS
head coach Jeff Almond. "We started with a press which created numerous steals that led to lay-
ups. Although we scored a good amount of points, we still need to work on finishing at the rim.
We missed too many easy buckets."
The Jets utilized a four-pronged offensive attack to breeze past MVHS. Caden Carter led
all scorers with 21 points, Jackson Ashmore and Dayton Marsh tallied 18 and 17 points,
respectively, while Joshua Meigs fired in 14 points.
Dalton Smith's fourth-quarter free throw provided the only other scoring for the Jets, but
senior Dawson Ashmore contributed with several nice passes. The Ashmore brothers each also
came up with four steals, while Carter led the way with five of the Jets' 17 thefts.
Quincy Adams did his best to try to keep Marmaton Valley in the game, as the Wildcat
sophomore scored 17 of his team-high 18 points before halftime.
The Jets improved to 4-2 in TRL action and now stand 6-8 on the season.
"Hopefully we can continue to build on our recent success. Pleasanton (Friday's
opponent) will be ready to play and we will continue to challenge our kids to be the best they
can be," Almond added. "We are coming down to the last third of the season and I believe we
are about to peak."
In a two-quarter junior varsity contest, Altoona-Midway also prevailed 24-18.
AMHS Girls
Once again suiting up just six players due to injuries, the Lady Jets found the going rough
from start to finish against MVHS. The Lady Wildcats jumped out 16-2 after one quarter, led
29-9 at halftime, and 43-15 after three periods en route to a 53-23 win.
"Tonight we were gassed," noted Lady Jets head coach Ron Rice. "We've been fighting
the injury bug and it's taking a toll on the rest of our team, forcing us to play with six girls the
past few games. We kept getting beat on transition and my girls couldn't keep up. But when we
made Marmaton Valley set up their offense, we did well tonight."
Mariah Stackhouse was the major offensive force for AMHS, pouring in 15 points in the
losing cause. Natalie Davis finished with four points, while Emma Martin and Vonna O'Brien
each added two points.
"Offensively, we didn't play well in the first half, but we cleaned up our play in the
second half," Rice said. "The girls are having to play new positions due to our injuries, but I'm
seeing good growth from all of my girls and it will help us in the long run."
Ten different players reached the scoring column for Marmaton Valley. Three Lady
Wildcats reached double figures, as Bailey Griffith notched 11 points and Mykayla Ard and
Alyson Ard each finished with 10 points.
The Lady Jets fell to 0-14 and 0-6 in league.
Altoona-Midway returns home on Friday to host Pleasanton.